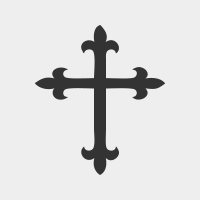 July 1, 2019
St. Mark's Episcopal Church
June 30, 2019
The Reverend Rick Veit
This is from Episcopal Church Memes: "Jesus said to his disciples, 'A new command I give you, love one another.' And his disciples responded, 'But master, what if they do not agree with us on a disputable matter that we think should be an essential doctrine?' And Jesus says, "Let's try this one more time."
Discipleship, becoming a follower of our Lord, a follower of Jesus our Savior. What does that mean?
At St. Mark's Church, our core mission, our vision is to become a growing community of love, joy, and hope. It is on the front of every bulletin. Loving God and loving each other and ourselves is at the center of who we are as Christians and as Episcopalians. All of the other doctrines center in these two great commandments. If we practice love, we will find joy. If we find joy in the Lord, we will have hope. And it is God who brings us love. God loved us first and gave his only begotten Son Jesus to die for us and protect us, to offer us eternal life, eternal love. It is God who will bring us joy and hope. As Paul reminds us in Galatians, through the power of the Spirit, we stray away from self-focus, instead filling ourselves with becoming a slave to love, a slave to our Lord who is love.
The Most Rev. Michael Curry, Presiding Bishop of the Episcopal Church in the United States, said recently, "Our job is not to build a bigger church but a better world. If we do that the rest will take care of itself." At St. Mark's, we are not primarily focused on growing numbers of people in the pews, but growing love, joy, and hope for everyone in the world. As Bishop Curry said, "…the rest will take care of itself."
Discipleship, becoming a follower of our Lord and Savior, Jesus Christ. We now turn to the scriptures of the day.
Mirroring the passing on of leadership from the prophet Elijah to the prophet Elisha, just before our Lord took Elijah up to heaven, Jesus is also preparing to be taken up to heaven. He is also preparing disciples to carry on what is the movement of The Way, or Christianity. Jesus is making and preparing disciples to continue the movement of love.
We learned in the Gospel that Jesus is now on his way to Jerusalem, the city where he will eventually die and be resurrected from the dead to be with our Lord in heaven. He sends his messengers ahead of him through the area known as Samaria. It was filled with people who were at odds with the people of Judaism. They were deep rifts between these two cultures for centuries, even to the point of not welcoming travelers when passing through. This was a "no, no" in that part of the world. Even if you disagreed with someone, if they were a traveler passing through, they were always welcomed into your house, served a meal and put up for the night. However, in Samaria, if Jews were passing through on their way to some high holy day in Jerusalem, they were not welcomed, but instead, sent on their way.
When Jesus' disciples, James and John, saw this behavior, they said, "Lord, do you want us to command fire to come down from heaven and consume these "unwelcoming" people?" This was echoing Elijah's experience from hundreds of years earlier, a story found in the Old Testament of the Bible. Elijah sought to call down fire to consume the unfaithful people. In 2 Kings (1:10, 12), he says, "If I am a man of God, let fire come down from heaven and consume you and fifty others." Elijah, however, was not God. We learned that Jesus had a different response. In the spirit of love, not violence, he rebuked James and John for even having those thoughts and sent them on to another village. God's Son, Jesus, was not sent to destroy but to save and reconcile, especially those traveling from one place to another. The story continues.
"As they were going along the road, someone said to Jesus, 'I will follow you wherever you go.' And Jesus said to him, 'Foxes have holes, and birds of the air have nests; but the Son of Man has nowhere to lay his head.'" Jesus is now teaching three different characteristics of discipleship, three different attributes of being a follower of our Lord. The first centers in defining what is and what is not our home as Christians. Animals, people who are not followers of God, have homes, holes, and nests. But as followers of Jesus Christ, we have nowhere to lay our heads. In other words, our home is only with our Lord and wherever he leads us. Our home could be literally your dwelling places here in Cheyenne, your house or apartment. But when you follow Jesus, your home may take you elsewhere, in Wyoming, Nebraska, in California, India, Africa, or wherever. God makes a home in our hearts. There is nowhere else to lay our heads.
Lesson two of discipleship. The Gospel continues, "To another (Jesus) said, 'Follow me.' But (the person) said, 'Lord, first let me go and bury my father.' But Jesus said to him, 'Let the dead bury their own dead; but as for you, go and proclaim the kingdom of God.'" On the surface this seems like a very non-compassionate response from Jesus. This is similar to that of Elijah when he encourages Elisha to go kiss his parents goodbye before following him and leaving the family business behind. However, in this instance, Jesus commands something different. Even though it was the duty of a Jewish person to care for and bury their parents when they were old and dying, following Jesus superseded the Law. Following Jesus demands that the priority of service to the kingdom be set above every other priority. And in a symbolic way, this second lesson means that those who have not responded to become followers of the Lord are like the dead. Thus let the dead bury the dead. Those who have responded to the call to discipleship are no longer dead. Their concern should be with life and the living. Once again, one must look below the surface to understand Jesus' message which was not so much whether to care for or bury one's parents. Of course Jesus would want that. His point was to follow the Lord above all else.
The third lesson of discipleship. A person approaches Jesus and says, "'I will follow you, Lord but let me first say farewell to those at my home.' (Different than Elijah), Jesus said to him, 'No one who puts a hand to the plow and looks back is fit for the kingdom of God.'" This is a milder request from the second. Similar but different than Elijah, the follower is not supposed to go back, visit his family, destroy the family business by slaughtering the oxen and using the equipment to build a fire. Instead, Jesus commands the follower to not look back, but to move forward in Christ. If one looks back while plowing, the furrow will be crooked. Jesus is commanding an unconditional demand of discipleship, an unconditional demand to love, thereby bringing and sharing love with all of those in the world, bringing joy and hope.
Discipleship, becoming a follower of Jesus Christ, means that our only home is with our Lord, in our hearts. Our relationship with God is our home and our home is wherever he leads us. Becoming a follower of Jesus means that we focus on spiritually living, avoiding spiritual death. Paul expands upon what this lifestyle of spiritual living which includes love, joy, peace, patience, kindness, generosity, faithfulness, gentleness, and self-control. Finally, following Jesus Christ means to not look back and dwell on the past of life. Instead we focus on the future with Christ, bringing love to a broken world.
I close with a recent Facebook post from a relatively new parishioner of St. Mark's Church.
"Just about a year ago now, I took a personal step and set out to look for a new place to worship. Honestly, with as many good things as there were about where I was attending before, I was starting to forget what it felt like to take joy in fellowship—to be a part of a real community.
And then I walked through the doors at St. Mark's and felt right at home.
The community of faith there, the leadership, and the extra special friends I have made through the choir there have put a fresh heart in me. And tonight, after our choir's (at our) year-end celebration (of the ministry I was a part of), I am just reflecting on how truly thankful I am to have found my home. ❤️"
I do not share this to boast how great we are as a particular church. Although, I think we are blessed at St. Mark's. I share this to offer a testimony of a person who has found her journey with Christ here. She was missing that joy in fellowship, missing that real community. She took the initiative and walked through the doors of a new journey in Christ. And Jesus, along with the disciples at St. Mark's, made her feel right at home, her home being in her heart. As a disciple, the Lord placed a fresh heart inside of her. And her only response was gratefulness. She was truly thankful for the new home that Jesus has offered her.
Discipleship:
"Jesus said to his disciples, 'A new command I give you, love one another.' And his disciples responded, 'But master, what if they do not agree with us on a disputable matter that we think should be an essential doctrine?' And Jesus says, "Let's try this one more time."