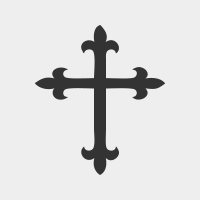 October 15, 2019
St. Mark's Episcopal Church
October 13, 2019
The Reverend Rick Veit
Our faith makes absolutely no logical sense. If people try to make sense of it according to the standards of this world, it will quite often cause confusion.
Case in point: What do we do when devastation overtakes us? What do we do when we have chronic pain that never seems to end? What do we do when someone we love dies, or when we get a divorce or are in an accident? We grieve. We get angry, sometimes get angry at God, angry at the world. We are sad. We sometimes isolate ourselves from the world, from God…if that is possible. I don't believe it is possible to isolate from God because God is everywhere and in everything because God created everything. But we still try to isolate ourselves. Why? Because we are suffering. "Why God? Why now? Too early? Why didn't you do something God?"
As Christians though, whether we are successful or in failure, whether we are healthy or in distress, whether we lose someone too early or if someone lives to be a hundred, we praise God. We become grateful, giving glory and praise and thanking God for everything, the easy and difficult, the times of comfort and anguish, the times of peace and anxiety, the torment and suffering and those times of solace, in all ways, we praise God. That becomes our primary purpose in life. And then we go take care of others and receive help ourselves. And it makes no logical sense.
In fact, it makes so little sense that I would never offer these words to someone who is suffering. And I am a priest!! Can you imagine me coming into the hospital and visiting someone in the midst of horrible pain with terminal cancer and saying, "Now is the time to praise God. That's right, thank God for being God." Can you imagine me visiting you after the loss of your mother or father or good friend and saying, "Thank you Jesus. They have finally left you as an orphan or friendless." If I did, I would expect a smack on my face and lots of yelling. In fact, I think lots of yelling would be a better response, in all honesty. Why? Because I do not want anyone to be in denial of their honest feelings, those very feelings that God has given you. Scream out! Get angry! Cry! Feel guilty! Feel whatever you feel,….and then give thanks to God, praise God, in fact, for giving you those feelings, those emotions. A little twist. Maybe later you can thank God for being God, and maybe not. The pain may be too great. But in the midst of torturous grief, just be….be the person God created you to be, feelings and all.
Here is my prescription for you, whether you are happy or sad, in grief or joy and ease.
#1 Worship every week, every day, in fact. Why? Because the liturgy will carry you. The liturgy will be your stabilizing factor in life, in a life filled with lightness and upheaval, filled with extreme highs, deep lows, and all of the boring and seemingly mundane "in the middles." When we worship, we give glory to God, we pray, we receive from God especially in the Eucharist and in the scriptures, and then we are sent out by God to serve. When we worship, if we can't say the words because our lives may be in such turmoil, other people say it for us.
I have used this before. But after dad died, mom, after missing church for a few weeks, came back. She could not speak in worship because she was in such pain. But others did. The liturgy became and continues to be her stabilizing factor.
Prescription #2 — Read the Psalms. They are filled with honest and faithful responses. Turn to Psalm 139 in the BCP, p. 794. Vs 1-2, 13-14….now jump ahead to vs. 19-22, then finish 23 ff.
In everything we can be honest with God, and in everything we can praise God, give thanks to God. Let worshipping the Lord carry you. Let the Psalms remind you to be fully honest with God, bad words and all.
Enter the scene: Naaman, a commander of the army of the king of Aram, strong and mighty, a warrior, tough as nails from the 9th c. BC. Oh, and he also suffered from leprosy. Was he happy? Hell no! He suffered and he had his pride. He didn't want anyone to know of his discomfort. Next thing you know, a young person approaches Naaman's wife and suggests that he should go to Samaria where he would be healed. She tells Naaman's master and his master ends up sending him with a letter and lots of money to the king of Israel. Naaman's ailment is exposed, and it gets worse. Upon arrival in Israel, the king thinks it is a trick. He tears his clothes in anger and thinks the Aram King is somehow picking a quarrel. Sounds like the traps of politics to me. We know that all too well today. Naaman, this mighty man, is caught in the middle of what must have been an embarrassing scene. The prophet Elisha hears about it and persuades the Israeli king to send Naaman to him for healing. Upon arrival, Elisha sends a messenger and tells Naaman to go wash in a river for healing. Naaman is filled with pride and anger that a messenger is sent rather than the important prophet. "Tell Elisha to come out himself, wave his hands, call on God, do whatever he's gotta do, and heal me!!!" He turns away in rage.
A side note. Notice his raw emotions. He is being honest.
Next, his servants calm him down and basically say, "Just go. Wash, be clean. Receive this gift." So Naaman did. He immersed himself seven times in the Jordan according to the word of the man of God. His flesh was restored and was clean. When he returned to the man of God and all his company, very public and very vulnerable, Naaman said, "Now I know that there is no God in all the earth except in Israel."
What is the importance of this story? On the surface, it is all about a miracle, right? It is all about God fixing this man who is suffering. But below the surface, there is something more important. The deeper message actually has little to do with whether Naaman was healed or not. That is secondary. According to the world's standards, if he gets healed, God is good. But if he does not get healed, God is bad. "No praise for you God!" But in a world of faith, whether we live or die today or any day, whether life is easy or hard, whether we are successful or complete failures, connected or loners, God is always good and God always desires thanks and praise. The most important part of this story is that Naaman, a mighty warrior and a complete weakling who suffered from a debilitating disease, gives glory to God.
Another side note: Caroline went to this cool event last night to raise money for the restoring of the Lincoln theater downtown. On the back of the shirt it says, "I'm just here for the music." As faithful Christians it could read, "I'm just here to praise God." That's it. That is what all of our life should be about in the good times and in the bad. I also like the music though. But I digress.
The Gospel story tells a similar story. Jesus enters a village and ten people with leprosy approach seeking healing. Keeping with tradition, Jesus tells them to show themselves to the priests. And as they went they were healed. Then the important part of the story happens. One of them who was healed turns back and praises God. He then prostrates himself at Jesus' feet and thanks him. He is grateful. But where are all the others?? They were healed and went on selfishly in their lives until, of course, they had another need. Jesus tells the man, "Go, your faith has made you well." Or, this is not primarily about healing. This is, instead, an opportunity to glorify God.
To be honest, I have quite often fallen into the trap of the other nine. I receive my healing and then go on my way. My only saving grace is that God draws me back to worship week after week, where I am reconnected with Jesus through the Eucharist and the hearing of the Word, and where I praise God again and again. Then I head back to the rat-race of life, and then return again to worship.
Be grateful and give glory to God. And celebrate those times of healing and be honest with God in times of pain. The world will nock you around. The Lord will stabilize you.