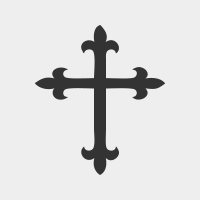 October 24, 2019
St. Mark's Episcopal Church
October 20, 2019
The Reverend Rick Veit
Life is never as simple as we try to make it, is it. Just when we think we have the answer, there may be either a different angle on the same answer or a different answer all together. As I have reminded people before, my Seminary theology professor used to state two basic principles at every class before getting into the topics of the day. First, "It is a privilege to do theology." Or, it is a privilege to study God and how God acts in creation and what God desires of his creation. Second, "As soon as you think you know God, you don't know God." So, It is a privilege to do theology with you today, and as soon as you think you know God, you don't know God.
There are multiple layers in each of the scripture verses that we heard today, and if I were to cover all four of them, we would be here for hours. Today I will focus on the Gospel of Luke.
Luke sets forth the words and works of Jesus as the divine and yet human Savior, whose compassion and tenderness extends to all who were of need. This made sense considering that Luke was a physician, one who tried to care for people, one who focused on healing. The parable, or teaching, from Jesus focuses on an unjust judge and a widow in need. But, in the spirit of understanding that life has many layers of understanding, let me back up from there.
Jesus is speaking to his disciples, his followers. On one layer, the overall focus is to discuss the need to pray always and to not lose heart. And this is for every person. The followers are people who are trying to discern what is right and what is wrong in life, ie all people. They are people who are trying to seek wisdom, wisdom from God, wisdom from the universe, however you would like to put it. Jesus is teaching that all people have the need to seek wisdom, and therefore, all people have the need to pray at all times, search their hearts for the right way forward in any circumstance. And they are to have faith that that wisdom will come to them. Do not lose heart. Prayer, connecting with God, connecting with the wisdom of the world and universe, all of God's creation, is at the center of this parable.
We have this prayer cube at home. Before meals, someone rolls it and then prays the prayer that comes up. It has become kind of fun. However, prayer does not have to be that formal. We can pray with every breath, breathing in the Spirit of God, breathing out anything bad, breathing in what is right and holy, breathing out, inspiring us to serve the world. Prayer is silence. Prayer can be during exercise. Pray always and do not lose heart.
Next, we jump into the parable itself. "In a certain city there was a judge who neither feared God nor had respect for people." Let me stop there. Many people, particularly within Christianity, will say that there is no need for judgment. Only God is the judge. But the reality is that there are times that people are called to be judges. There are times when all of us need to stand up for what is right, to take action with people are acting in poor and damaging ways. Where is that place for you?
I find a special place in my heart for people who are literally judges, who sit on the bench, making judgments everyday about people. To all of you, I pray regularly that your decisions would be just. Why? Because if you are called to that position or if anyone is called into a position of leadership, the impact on the world and God's creation can be greater….and, sadly, the damage done in the world and in God's creation can be greater as well, if not done wisely. Parents, I pray for you regularly as well. You are often in the position of making judgments and difficult decisions. And the good you can do in the world is profound, along with the damage you can cause if not careful. This message is really for everyone though, right? – Judges, parents, single, adults and children, everyone.
In the story today, we have a judge who neither fears God nor respects people. He is not seeking good wisdom and he does not have the person's best interest at heart. He is only focused on himself.
"In that city there was a widow who kept coming to him and saying, 'Grant me justice against my opponent.'" In this time period, it was the husband who had the rights to all of the assets of the family, the land, the money, etc. When the man died, the widow and children, who became orphans, would be without anything. The assets would get transferred to other men within the family.
The expectation regarding the care of widows and orphans was clear. It was grounded in God's mercy on the Israelites when they were in bondage in Egypt. Deuteronomy 24: 18-19 said, "Remember that you were slaves in Egypt and the LORD your God redeemed you from there. That is why I command you to do this. When you are harvesting in your field and you overlook a sheaf, do not go back to get it. Leave it for the alien, or stranger, the fatherless and the widow, so that the LORD your God may bless you in all the work of your hands." The New Testament is filled with stories about prayer and caring for those in need. 1 Timothy 5:5 says, "The real widow, left alone, has set her hope on God and continues in supplications and prayers night and day." James (1:27) declares that "religion that is pure and undefiled before God, the Father, is this: to care for orphans and widows in their distress, and to keep oneself unstained by the world."
What we have in this story is a scenario in the world that demands for people to pray, to seek wisdom from the divine source, from God. We have an unjust judge who is not seeking good wisdom, probably self-consumed, who could care less for justice and people in need. We have a widow, a person who needed help and justice, coming to him saying, 'Grant me justice against my opponent.' He is corrupt and refuses initially. But she remains persistent!
On the one hand, there are times when we are called to judge, to take action and seek justice, particularly for those in need. And, in addition, we are supposed to be persistent if justice is not being done, particularly for those in great need.
The judge says, "'Though I have no fear of God and no respect for anyone, yet because this widow keeps bothering me, I will grant her justice, so that she may not wear me out by continually coming." And the Lord said, 'Listen to what the unjust judge says. And will not God grant justice to his chosen ones who cry to him day and night? Will he delay long in helping them? (NO). I tell you, he will quickly grant justice to them." And then Jesus says, "And yet, when the Son of Man comes, will he find faith on earth?"
So, what do we have here? As I began with, "Life is never as simple as we try to make it." There are always many layers, as is the case with today's message. First, because life is not simple, we are to pray at all times and to not lose heart. Our entire life should be prayer, at work, in our sleeping and waking, when we shower and eat, before we shower and eat, when we are recreating and resting, fighting, or standing up for what we believe in, and listening to others. Next, we are given a story where life is not easy, and therefore, the need to pray is even more critical. We have a person who is a judge that has become consumed with their own needs rather than helping with the needs of others. In this case, it is a woman who has lost her husband. She is in a very vulnerable place. But because she is persistent, "crying out to God day and night," at all times, pleading with God to help, God hears and becomes persistent in helping her.
I wish life was easier. I don't know why God has set it up that way. But if we do not take action, we, the world, others may not get the benefits. In our persistence, in our faithfulness, God will grant justice. It is because of the widow's persistence that justice comes to fruition.
Where is justice necessary today? Who are those in need…at school, at home, at work, on vacation? Is it the widow, the orphan, or the stranger, the immigrant who is in a new land, or is it someone else? Are you, am I, the person called to take action to help the person in need of people? And where are we being called to pray and who are we called to pray for?
Are we stepping up, or are we just allowing someone else to do the work? And remember, the person in need may be us, and if no one steps up to help then God's work will not get done in the world, then people, then possibly you and I will be left in pain to fend for ourselves.
Unattended Student Initiative
Family Promise.
Politics.
Judge and Justice.
Take action – work for those in need.
Pray always and do not lose heart.
Be faithful.