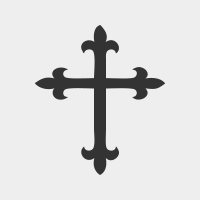 September 26, 2019
St. Mark's Episcopal Church
September 22, 2019
The Reverend Rick Veit
Sometimes we just need a little humor in our lives, a little boosting up. Here are a few interesting quotes found on different church announcement boards.
• The sermon this morning: 'Jesus Walks on the Water.' The sermon tonight: 'Searching for Jesus.'
• Ladies, don't forget the rummage sale. It's a chance to get rid of those things not worth keeping around the house. Bring your husbands.
• Don't let worry kill you off – let the Church help.
• Miss Charlene Mason sang "I will not pass this way again', giving obvious pleasure to the congregation.
• For those of you who have children and don't know it, we have a nursery downstairs.
• The Rector will preach his farewell message, after which the choir will sing 'Break Forth Into Joy'.
• Irving Benson and Jessie Carter were married on October 24 in the church. So ends a friendship that began in their school days.
• Potluck supper Sunday at 5 p.m. – prayer and medication to follow.
• The church will host an evening of fine dining, super entertainment and gracious hostility.
• At the evening service tonight, the sermon topic will be 'What is Hell?' Come early and listen to our choir practice.
• The ladies of the Church have cast off clothing of every kind. They may be seen in the basement on Friday afternoon.
• This evening at 7 p.m. there will be hymn singing in the park across from the Church. Bring a blanket and come prepared to sin.
• Low Self-Esteem Support Group will meet Thursday at 7 p.m. Please use the back door.
• This being Easter Sunday, we will ask Mrs. Lewis to come forward and lay an egg on the altar.
And finally, this is the worst one, or best, depending on your perspective.
• The Associate Minister unveiled the church's new tithing campaign slogan last Sunday: 'I Upped My Pledge – Up Yours.'
Sometimes we need a little lightening up in our lives, don't we. We certainly heard that experience in the Old Testament today. The Prophet Jeremiah said, "My joy is gone, grief is upon me, my heart is sick… I am hurt, I mourn,.dismay has taken hold of me.…( Is the Lord even here?)." Is the Lord even here? What a powerful and deep and beautifully disturbing question. It is easy to say 'yes' on the surface, …when things are good. But when people feel trapped in their lives, in that bubble of depression or sadness, that 'yes' may quickly turn to 'no'. – Is God even here? Is anyone here to help? I can see how suicide may seem like a good option to some people. Just end it. I want out.
Even our vision at St. Mark's may seem distant and surfacy – A growing vision of love, joy, and hope. Love, joy, and hope? I don't have any of those in my life. That is for all the churchy folks who are successful, with good jobs, fulfilling relationships or marriages. That is for people who have "made it" in life and are happy, not for me. I got fired. We both have to have three jobs to make ends meet. I got a divorce. What is your story?
In the movie, Shawshanke Redemption, a prison newbie, Andy Dufresne, had just gotten out of the hole. He is having a conversation with his prison mates while eating breakfast. One guy asks Andy,
—————————————————-
Was it worth it, two weeks in the hole?
Andy responds, Easiest time I ever did.
Uhn-uhn. There is no such thing as easy time in the hole. A week in the hole is like a year.
Andy says, I listened to Mozart to keep me company.
So they let you tote that record player down there, huh?
No, It was in here (point to head and heart). That's the beauty of music. They can't get that from you. Haven't you ever felt that way about music?
One man said, I played a mean harmonica as a young man. Lost interest in it, though. It didn't make much sense in (prison) here.
Here's where it makes the most sense. You need it so you don't forget.
Forget? Forget what?
Forget that there are places in the world that aren't made out of stone. That there's something inside that they can't get to, that they can't touch. It's yours.
What are you talking about?
Hope.
Hope? Let me tell you somethin' my friend – hope is a dangerous thing, hope can drive a man insane. It's got no use on the inside. You better get used to that idea.
——————————————————-
You will have to watch the rest of the movie to find out what happens.
Hope can be a dangerous thing. Many people believe that there is no hope on the inside, no love, no joy. And yet, God promises us that we who walk in darkness can see a great light. It means that in darkness there is light. In the scriptures today we are reminded that the angels of the Lord encamp around us and will deliver us. The Lord is near to the brokenhearted. There is nothing that can separate us from the love of God in Christ Jesus our Lord. It may not always feel that way, but it is true. Hope will help you break free. And there is always, always a way.
If you are struggling to find that way, if you are feeling trapped or sad or depressed or hopeless, if you are trapped in a bubble, a cave, and cannot see out, you have come to the right place. St. Mark's is a place where you are welcome and we are here for you. God is here and he will never abandon you. I know Grace for 2 Brothers is here for you, and a multitude of counselors that we can connect you with.
You are here with like-minded people. You are surrounded by those who have had success and complete failure in life, those who have experienced great joy and devastating tragedy. You are here with people who have experienced health and crippling sickness.
Another thing: I also find that the pillars of strength that are around us are also chasms of weakness. The people who always seem to be happy and have everything together – are not, and the people who always seem to be sad are not always sad. Your story matches other stories. There is hope in this place. And hope can be a dangerous thing because if you hope in things that are fleeting, it is a false hope. At St. Mark's, we hope in the Lord. And the Lord, in that hope, helps you cope. Hope in the Lord helps you see the light when all there seems to be is darkness. And for some of you, that hope begins today.
Let us know continue with the Prayer for Those Touched By Suicide (page 4 of the bulletin).