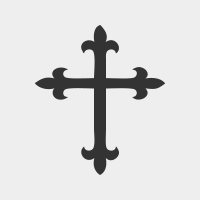 October 1, 2019
St. Mark's Episcopal Church
September 29, 2019
The Reverend Rick Veit
Author Cassie Blackburn Soule said, "God won't give you more than you can handle" is idolatry of self-sufficiency hiding behind spiritual sounding words. The truth is people are dealing with more than they can handle all over the world. That's why we need God and why he has given us each other. I know. I have had more than I can handle more than once. God gave me strength and he gave me people who came along side me to bear my burden when I couldn't. I hope to do the same."
For years, our vision at St. Mark's Church was to become a community of compassion, or compassion to the power of 2. Before that, and before I arrived, the vision was "to love God and love our neighbor as we would ourselves." Currently, our vision is: A growing community of?? (anyone want to take a guess? – what does our growing community include? HINT: It's on the front of every bulletin) A growing community of love, joy, and hope.
What is the common denominator of all of these? Deep down, they are all the same. We turn to God and we care for each other. We love God. We love each other. We have compassion according to, not just what we can give, but according to what people need. When we love, there is joy, even if, by the world's standards, we have little. And where there is joy, there is hope. And when there doesn't seem to be any love or joy, God gives us hope that love and joy are present. We may just be blind to them. We are a growing community of compassion and love and joy and hope, and these cross all barriers. They involve the haves and the have-nots.
You will hear about this vision between services today. Last week, we learned more about healing and suicide prevention. We prayed through the devastation and anxiety and challenge that often comes to people's lives, not just with suicide but with any of life's difficulties. This week, between services, we will have a scrumptious breakfast provided by our teenagers and hear from Tamara Moore, the executive director of Unaccompanied Youth Initiative. It is an organization that provides housing and food and sustenance for teenagers in the Cheyenne community who are homeless. I believe we even have one of those teenagers here today as well. That will be between services. We welcome your donations today. If you want to give cash or write a check, just make sure that it is identified as Unaccompanied Youth Initiative. You will also learn about other ways to get involved, cooking, even staying overnight as a houseparent. There are currently two homes that provide a place to live and a place to eat for about 15-20 teenagers who have no home.
This was initially inspired by JustFaith, a proactive Bible study and sharing group that St. Mark's is currently offering. The movement, through Terry Williams, also began The Wyoming Family Home Ownership Program, a ministry that helps people own their own home. He said in a recent Wyoming Tribune-Eagle article that "The focus is working families with children to prepare and successfully maintain a modest first-time home as the first step toward self-sufficiency and independence. This local church- and business-supported program has grown and now has 40 homeowner families. (I would note that both the Habitat and WYFHOP programs create taxpayers, and that these families, in many ways, are already giving back to the community.)"
Terry declared that Cheyenne is a compassionate community. This must be expanded though. He said, "It's hard to do well in school or look for work if you are hungry, don't have transportation and have been living in the city park because it is no longer safe to live at home or your parents have "moved on.""
Friend – posted on Facebook. Having to give away their kids.
Where does all of this come from? It comes from our hearts. I believe God gives people, all people – Christian, Muslim, Atheist, Agnostic, None, Buddhist – in all of us, God inspires a sense of love and compassion. Now all people do not respond or accept that inspiration. They suppress it or choose to ignore it and perhaps just focus on their own desires. But all people have it.
I offer you a portion of that opening quote again:
"God won't give you more than you can handle" is idolatry of self-sufficiency hiding behind spiritual sounding words. The truth is people are dealing with more than they can handle all over the world. That's why we need God and why he has given us each other." Cassie Blackburn Soule.
Where does all of this come from? It comes from God placing it on our hearts and it comes from the Bible. The scriptures are saturated with words that inspire those who have to give to those who do not have. Today, the theme is included in all four readings.
The prophet Amos said, "Alas for those who are at ease..for those who feel secure, (lying on beds of ivory and lounging on their couches),..they shall now be the first to go into exile,.."
Psalm 146 states, "The LORD sets the prisoners free;..opens the eyes of the blind:..The LORD cares for the stranger; he sustains the orphan and widow."
Paul even gets more specific in his letter to Timothy. "..Those who want to be rich fall into temptation and are trapped by many senseless and harmful desires that plunge (them) into ruin and destruction…(We) are to do good, to be rich in good works, generous, and ready to share,..so that (we) may take hold of the life that really is life." Take hold of the life that really is life. The more you turn to God and give of yourself, the more you will experience real life. Make that your life purpose.
Of course, in the Gospel of Luke, Jesus tells the story of a rich man, dressed in purple and fine linen, who feasts every day on scrumptious foods. He tells the story of a poor man named Lazarus, who is sick and poor and lying at the gate of the rich man, just steps away from the one who has all the sustenance in this world. In fact, the rich man even knows the man's name, and he still does not give to him. The rich man thinks he does not need God, of course, until life and death catches up with him. He then screams out to God, and ironically, calls out to the poor man, Lazarus, and pleads with the man who has "nothing" to help him. And it is too late then. Both have died. The rich man missed his opportunity.
The opportunity is in this life. The Kingdom of God is now, not sometime in the future. Every day is a test for us. How is your score? What are you doing, or are you complacent?
There are so many opportunities in Cheyenne and at St. Mark's Church to help. I have one person who every year helps organize our animal blessing in honor of St. Francis of Assisi, which is today at 2 p.m., by the way. That is her focus, her ministry: take care of the animals. All donations will go to the local animal shelter. We have our Little Free Pantry at our front entrance. People sowing blankets each week for children. We need people to help with Family Promise, a ministry to homeless families. We will learn more about helping teenagers who are homeless today.
The list goes on and on. God is knocking on our doors every day, inspiring us to be faithful, to worship, and to love and help others, to take action.
God will always give us more than we can handle. That is the point. We can't handle life on our own. We need God and we need each other.