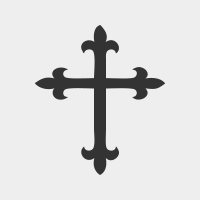 September 10, 2019
St. Mark's Episcopal Church
September 8, 2019
The Reverend Rick Veit
God is love, and therefore love is at the center of everything that we are to be about as Christians. We are to be obedient to that love. That is the most central condition of discipleship. And apparently, according to Jesus, we are supposed to hate as well. But I will come back to that condition for discipleship in a bit. Back to love.
According to the Original Testament in the book of Deuteronomy that we heard today, in love and in obedience to the ways that lead to love, we find life and prosperity, joy and hope. Without love, we engage death and adversity. In love, in obeying God, holding fast to him, we find blessings. Separated from the way of love, which is our choice, we find death and curses. And I do not just mean literal death either. People can be living, but have death inside them, hopelessness, imprisonment, isolation. Those can be a curse. They come when love is not present.
As Christians, we believe that God has given us a way to reconnect with him when we choose the way of non-love. God has given us Jesus who reconciles us to our Lord, gives us salvation. With Jesus, we can have new life, new prosperity. With Jesus, we do not have to continue living in isolation, on our own, trying to figure out and tackle life by ourselves. With Jesus, we can find love again.
That is why Baptism and the Eucharist are so important. They are the starting places for living out this condition. In baptism, we repent or return to God through Jesus. In Eucharist, we continue that process of repentance throughout our life, turning from non-loving ways and begin again to follow the ways of the Lord. That is why we offer these sacraments so regularly. Why? Because life comes at us fast. Because after Sunday, Monday hits us in the face and we are right back into the rat race of life, day and night, busy with whatever we are busy with. And we all know our stresses and anxieties do not just end during the work or school day. It stays with us at night, in our sleeping as well as our waking.
There is that great antiphon at the end of Compline, our Daily Office liturgy meant for the end of the day – BCP p. 134. It reads, "Guide us waking, O Lord, and guard us sleeping; that awake we may watch with Christ, and asleep we may rest in peace." Or, according to Deuteronomy, awake we may obey God's commandments, live into the love God offers us, and asleep we may rest in peace.
We love, the first condition of discipleship, and, apparently, we hate as well, the second condition of discipleship. What is that about?
On the surface, Jesus' message seems to be completely chaotic. If God is love, as the Original Testament has taught us, then Jesus is love, as the New Testament teaches us. And if Jesus is love then why would he be teaching a large crowd about hating one's father and mother, wife, children, siblings, and even life itself. On the surface, it might even seem that Jesus is supporting suicide considering to that last phrase. And so, we must dig deeper.
Jesus was just finishing lessons about Kingdom etiquette: How do we act and live while in the Kingdom of God. As a review from last week, we learned that when we have a banquet, we don't just invite family and friends, we invite the poor, the crippled, anyone in great need. Make it a large table for everyone. And, by the way, the Kingdom of God is now, not just something in the future.
Today, we learn that Jesus is lamenting the failure of Jerusalem to respond to Jesus' call for Kingdom etiquette. Jesus is preparing to face martyrdom in Jerusalem and he expects his disciples to be prepared to leave everything behind and make their commitment to Jesus as complete and all-consuming as Jesus' own devotion to his mission.
He begins with a vivid Semitic hyperbole that exaggerates a contrast so that it can be seen more clearly. "Hate", or miseo, does not mean anger or hostility here, as we might expect. It indicates that if there is a conflict, one's response to the demands of discipleship must take precedence over even the most sacred of human relationships. Of course, Jesus does not want us to literally hate, or be mean to our family and friends, just as last week he did not not want us to dine with our loved ones. He just wants us to love Jesus and the Way of Jesus more. When we do love Jesus more, then our actions and ways become spreading love to everyone, not just our close friends and family. Or, put another way, our circle of friends and family becomes a broader circle. When we do love Jesus more, we begin to spread love to those with whom God calls us to love, not just the obvious ones, but even to those who are difficult to love.
Who are those people for you who are difficult to love? Perhaps it is an estranged relative. Maybe it is your spouse or your kids, at times. Perhaps it is someone who has hurt you. Maybe it is a person who is homeless or a criminal.
We are to love the way of Jesus more than anything else, more than our family, more than our possessions, more than our jobs, churches, and hobbies. That is what it means to hate everything else. It means we are to be obedient to that love above all else. That is what the disciples literally had to do. They left their families to travel and spread the gospel.
What are you willing to give up? Or, better put, what are you not willing to give up: your time, your money, your property, your family, your kids, your own life? What does a life with our Lord cost us? It costs us everything!
Can you imagine when starting a friendship or marriage, saying first, I am willing to kind of love you? I will give you 52%. Then we will see later if you are worthy of more. Can you imagine being a marine, walking into battle, and telling your commanding officer that you are in it 67%? No, we love fully just as we are fully loved. That is the condition and the cost of discipleship.
Multiple Ways:
• Homeless person needing a shower / last week.
• This month, and moving forward, our outreach team is starting to focus on a particularly difficult demographic of love: teenagers who are homeless and suicide prevention. There are brochures in the back of the nave that describe how you can participate in the Unaccompanied Youth Initiative. In a few weeks, we will have the Executive Director present on Sunday morning, September 29 between services that will include breakfast. We have a number of teenagers in Cheyenne living on the streets or in their cars. Many have run away from addiction and violence within their households. There are a number of ways for people to help. Give financially. Help them learn to cook. Teach them other basic skills. Become house parents or weekend house parents.
• Suicide Prevention Month: September 22 – Liturgy for Healing and Suicide Prevention. Next Tuesday, September 10: Step Up/Step Out – a silent walk downtown that draws our focus on loving those where life and literal death is possibly just a step away. Walk of Grace
• Episcopal Relief and Development: Foundation match of $25,000.00
I close with an excerpt from Bizarro.com. There is that comic image of the dog sitting on the throne in heaven with an angel below him. The dog's caption is "The joyful, loving, eternally forgiving nature of dogs never tipped you off?"
We are approaching St. Francis Day in a few weeks, so I will end with that one. Love…and hate.. anything that tries to take precedence over that love. Or, put another way, be like the dogs.