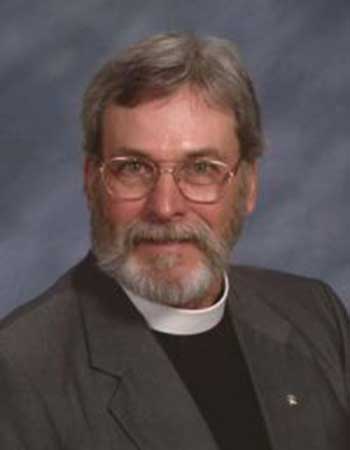 David McElwain was born in New Castle, Pennsylvania, and grew up in Arizona.  He earned a Bachelor's of Science degree in Psychology from Arizona State University and a Master of Divinity from Central Baptist Theological Seminary, Kansas City, Kansas.  Ordained in 1986 he served at the Ceresco Baptist Church in Ceresco Michigan from 1986 to 1989.
Commissioned in the U.S. Navy on March 17, 1989, he completed the Chaplain's Basic Course in August of 1989 and returned to his church duties serving as a Reserve Chaplain.  In January of 1990 he entered active duty service.  Naval service has taken him around the world.
Through the Navy's Pastoral Care Residency he developed skills in dealing with the human response to trauma-combat related, natural and interpersonal.  He has served on ships, with Marines, in hospitals, at Chapels and doing retreat ministry in the Navy's CREDO program.
While in Okinawa he served in a lay capacity at All Soul's Church in Chatan Cho.  After returning from Operation Iraqi Freedom in 2003 he sought ordination in the Episcopal Church and worked with Bishop Daniel in East Carolina toward that goal.  Then as a postulant/candidate for holy orders he assisted at St. Anne's in Jacksonville NC and Church of the Good Shepherd in Norfolk VA.  As part of reading for orders he earned a certificate in Anglican Studies from Church Divinity School of the Pacific.  In February 2008 he completed the transition-which culminated a ten year journey toward the Episcopal Church-when he was ordained to the priesthoo
Upon retirement from the Navy in December 2010 he moved to Cheyenne Wyoming where he is involved in supply ministry. Currently he serves as a Chaplain at the Veterans Administration Hospital in Cheyenne.